The Greeting Scene For Your Carpet Cleaning Marketing Video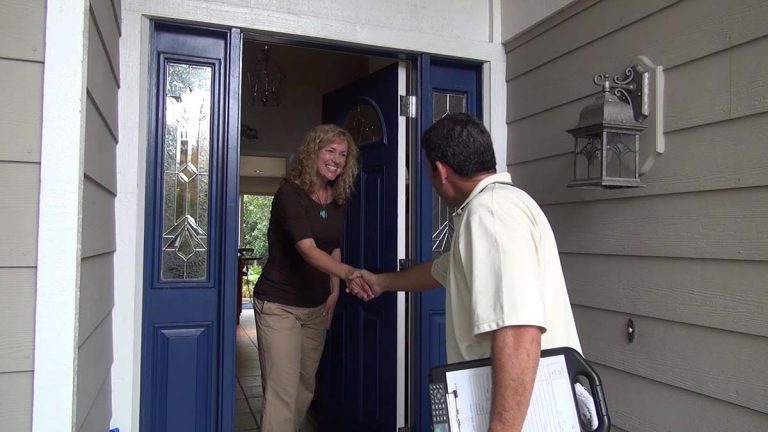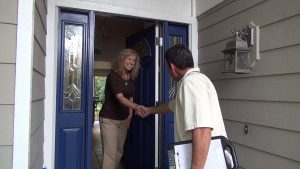 Carpet Cleaner Video Marketing Examples
Greeting: Each scene with a consumer is critical to your video. These are intended to persuade customers that they will have a similar reaction to your company and technician. If you do not have a well branded vehicle for the arrival scene, this greeting shot will serve you well as the intro scene for your video.
Action: This scene is designed to capture the consumer's first physical impression of your company. Record the consumer opening the door with a smile. (She is glad to see that you have arrived on time.) The tech should be a respectful step back from the door and greet the customer and introduce himself. The consumer should then gesture for him come into the house. You can also consider options of handing the customer a business card or shaking hands. It is important in all consumer scenes for the tech to maintain eye contact with the customer.
Tips: Take multiple recordings of each scene. Vary each take, readjust the position of the camera, and change what the tech says to the customer. (The audio will not actually be used in the final video.) The focus is primarily on the customer and her reactions to the tech. You will be looking for the most comfortable looking greeting to use in the final video.
Check for any unnecessary distraction that could be visible to the camera. If there should be a screen door, consider having it already locked in an open position.
Again check to ensure there are no rags hanging out of the pocket, not wearing sun glasses, and that shirt and other details look good.
Click on a button below to see examples
[lgc_column grid="33″ tablet_grid="33″ mobile_grid="33″ last="false"]Watch Example #1[/lgc_column]
[lgc_column grid="33″ tablet_grid="33″ mobile_grid="33″ last="false"]Watch Example #2[/lgc_column]
[lgc_column grid="33″ tablet_grid="33″ mobile_grid="33″ last="true"]Watch Example #3[/lgc_column]
Click Next to Continue